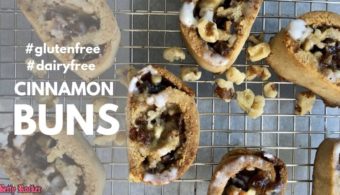 Great for any occasion, these gluten and dairy free Cinnamon Buns are sure to warm your heart and permeate your kitchen with the warm smells of the season. They're a great recipe to make with friends, kids, family members, as the rolling out and decorating process lend themselves to being creative.
With all the stress in day to day life, I find cooking and baking to be such a wonderful way to tune into the present and focus on a process that engages me on multiple levels. You'll have to let me know if you experience that with baking too?
These would make a very healthy No-Strings-Attached treat being made from all whole food ingredients. The sweetness comes from a little honey and dates in moderate amounts.
While sugar is always important to be mindful of in your overall daily intake, it's definitely preferable to have it from sources like honey, dates and foods in their natural, wholesome form so you can absorb the minerals and immune boosting properties the honey contains, and the fiber in the dates as well.
You'll get the delicious taste and nutritional benefits of cinnamon, walnuts, and honey all rolled up into this tasty whole food baked treat, topped off with an optional coconut glaze.
---
Cinnamon helps lower blood cholesterol, helps regulate blood sugar (which helps with cravings), can alleviate headache and migraine symptoms, and boosts both cognitive function and memory.
Walnuts are excellent sources of multiple nutrients – like healthy fats and protein – and phytochemicals, vitamins, and antioxidants that promote health benefits like cardiovascular health, weight maintenance, and stress reduction.
Raw honey is a rich source of antioxidants, enzymes and minerals. It even contains several amino acids, including tryptophan which can help promote rest and relaxation.
---
So treat yourself, Rockstar! And make these for your family and friends and treat them too!