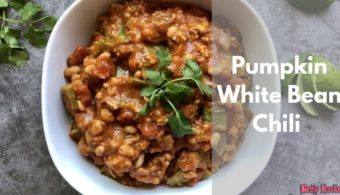 Welcome back to my kitchen!
This hearty Pumpkin White Bean Chili is the perfect meal for chilly winter days, cozy winter nights, and any other time you're craving something easy to make and incredible to eat.
Because it's made with whole food sources of protein, fiber, complex carbs and spices, you'll get the combined benefits of macronutrients to support your energy and micronutrients to support all the important cellular functions.
This chili will warm you up with delicious flavor and nourish you with the right fuel to make your metabolism hum while keeping your body healthy and your physique strong.
Healthy and strong – a total Rockstar combination!
---
Check out all this goodness:
Turkey is not only an excellent source of protein, but it also provides amino acids like tryptophan that promote a healthier sleep cycle and minerals like selenium that boosts your metabolism and strengthens your immune system
Garlic is an antioxidant powerhouse (and just plain delicious besides)
Onions contain vitamins A, B6, C, and E, minerals such as sodium, potassium, and iron, and dietary fiber – in addition, onions are a good source of folic acid
Snap Peas contain vitamin A, vitamin C, iron, potassium, dietary fiber, magnesium and folic acid
Tomatoes provide vitamin C, potassium, folate and vitamin K
Pumpkin* contains Vitamins A, C, and E – all powerful antioxidants. It's actually one of the best sources of Vitamin A which is so good for our skin. Not only that, it's got essential minerals like copper, calcium, magnesium, phosphorus, AND B-vitamins.
White kidney beans – also known as cannellini beans – are an excellent source of vegetarian protein, fiber, and micronutrients
---
This recipe freezes well and is super simple to make vegetarian – just replace the turkey meat with another can of white beans.
*Not a fan of pumpkin? Try this dish with pureed sweet potato (buy it canned or make your own) – it's just as yummy and equally nutritious!
---
Pumpkin White Bean Chili
Yield: 4-5 servings
You will need: knife, cutting board, can opener, large pot, spatula and measuring cups and spoons
Key: T = Tablespoon; tsp = teaspoon
Ingredients: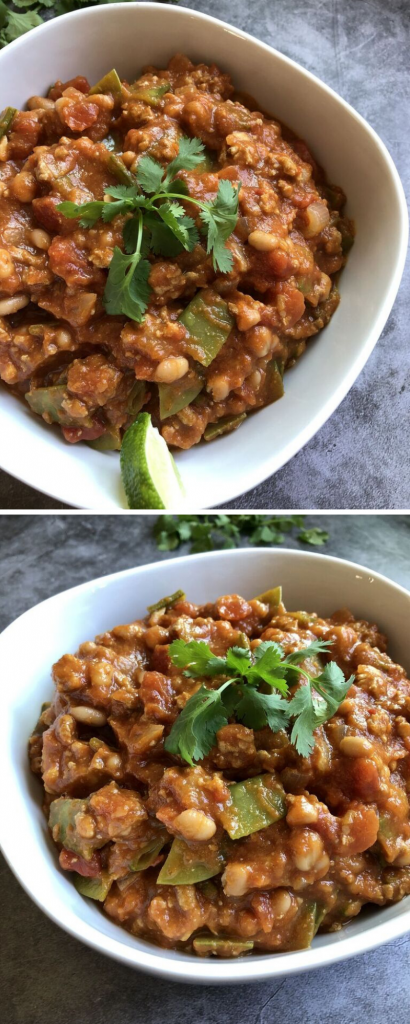 1 lb ground turkey
1 T olive oil
1 medium onion, diced
1 cup sugar snap peas, diced
3 cloves garlic, minced
1/2-3/4 tsp sea salt (adjust to taste)
(1) 14 oz can crushed tomatoes
(1) 14.5 oz can diced tomatoes, not drained, no salt added
(1) 15 oz can pumpkin puree
2 tsp chili powder or 1 tsp cayenne pepper
3/4 tsp smoked paprika
2 tsp cumin
1 tsp pumpkin pie spice
1 can white beans, rinsed and drained
1 cup chicken broth
Chopped fresh cilantro for garnish
Instructions:
Add the oil, chopped garlic and onions to the pot and cook over medium heat until the onions are translucent.
Add the turkey and salt to the mixture and cook until the meat is done.
Once the meat is cooked, add in the pumpkin, both cans of tomatoes, the chicken broth and all of the spices. Stir and let simmer for 20 minutes on low.
Add in the white beans and cook for another 20 minutes.
Once the beans and meat have been simmering for about 40 minutes, add in the snap peas and cook for another 5 mins.
Serve and top with cilantro and anything else you like!
Let me know how your chili turns out and if you make any modifications – I love hearing from you, and when you share, others can learn!